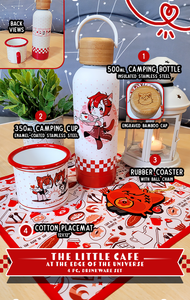 Your order is served!
A drinkware set including a 500ml Stainless Steel bottle with bamboo cap, a 350ml enamel-coated Stainless Steel cup, a rubber coaster with gold ball chain (to hang on the bottle or cup if so desired), and a 12" cotton mat.
The bottle and cup can hold warm/cold liquids and if covered, can keep it insulated for short periods of time.  Please handwash only and do so once before first use.
B-Grade sets are all functionally sound but may include one or more of the following cosmetic imperfections:

Bottle cap engravings may be off-centered beyond an acceptable margin
The cup may have spots or visible brush strokes on the red rim / red handle.
The cup may have tiny (<1mm) blemishes in the white enamel by the handle.


Please note that due to the process of production, the interior of the handle is expected to have visible creases and the bottle cap may include different grains of wood. Such aspects are not considered an imperfection.